Baker brings tastes of France to capital area
Author:
Source:
Visits:202
时间:2021-03-16
In 2003, Benjamin Devos worked at an international hotel in Beijing for seven months, and that short stay changed the young Frenchman's life.

Seeing authentic French bakeries prosper in many big cities around the world - but not in the Chinese capital despite the country's opening up, the 22-year-old decided he would open a bakery company producing high quality French-style loaves and desserts.
He then went back to Europe to raise funds, and came back in 2005 with 4 million yuan ($623,000) to start with.
Now his startup, Comptoirs de France Bakery Beijing, boasts 13 shops in Beijing and two in Tianjin.
Its central kitchen, about 550 square meters, offers more than 200 varieties of breads, pastries, cakes, tarts, cookies, chocolates, ice creams and other products not only to the company's 15 shops, but also to 10 international hotels and 20 restaurants in Beijing.
Devos says his secret for the business is "location, location and location", and he always chooses places close to good traffic and upscale office or residential buildings to open his shops, such as in Beijing's Sanlitun.
All of his baked goods are handmade; the only machine used in the kitchen is a big mixer.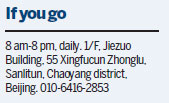 "Machines have limits, and we want to make products perfect, so we don't use machines," he says.
Machines have no feelings and cannot adjust to conditions, such as the weather.
A simple example: the increased humidity in Beijing's summers will prompt a senior chef to bake breads longer based on experience, but a machine lacks such flexibility, he explains.
The central kitchen alone employs more than 45 people to bake and cook.
Also, products made by machines all look the same, and are "boring", he says.
Following French traditions and making innovations to appeal to local tastes only when necessary, such as reducing the sugar content, the bakery's offerings now have a growing group of fans among both Chinese and expats.
The bakery shops are often packed during mealtime, and customers come for tasty sandwiches, salads and drinks that are made with the freshest in-season ingredients.
Devos says the menu is regularly updated.
Among the appealing offerings for summer, I liked the blackberry mango sorbet cake best.
The bright red-and-yellow cake was fresh and creamy, with a nice balance of sweetness and tartness.
liuzhihua@chinadaily.com.cn